The People's Movement campaigns against any measures that further develop the EU into a federal super-state and works to defend and enhance popular sovereignty, democracy and social justice in Ireland.
---
People's News - 6 April 2014
The current edition of People's News, dated 6 April 2014, is available for download here (520 KB).
Back issues of the newsletter are available here.
---
New flag proposed for the EU

The flag of austerity in Europe.
Galway-based artist Barbara Glynn has redesigned the flag of the European Union in order to symbolise its policy of permanent austerity.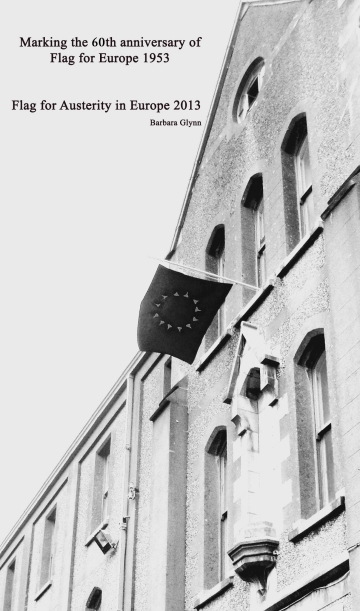 The new flag flying.
---
New poll reveals lack of awareness and mistrust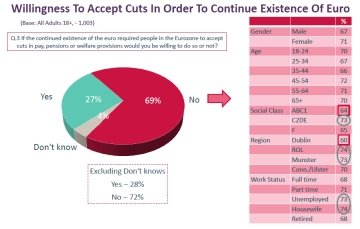 A new RedC poll commissioned by the EU Democrats, an EU-wide political organization, for the People's Movement has found that Irish people are not aware of forthcoming changes to the EU's decision-making process and that they are strongly opposed to any further impositions on taxpayers to save the euro.
A summary of the poll results is available in PDF format here. A press statement issued by the People's Movement is available here.
---
Banking union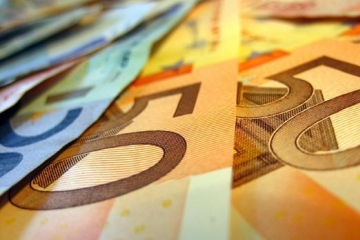 The People's Movement condemned the proposed euro-zone banking union in a press statement issued on 18 December 2013.
---
New print by Robert Ballagh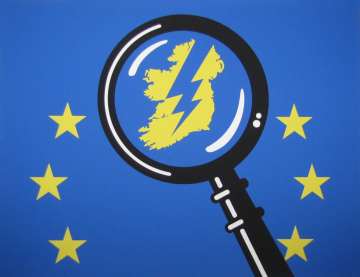 A new print by Robert Ballagh, in a limited edition of twenty-five, is available from the People's Movement. The print depicts one star in the EU flag representing a fractured EU member state — Ireland!
The print, which is 37 × 30 cm, costs €125 unframed and €150 framed. All proceeds go to supporting our work. Phone 087 2308330 for your copy.
Patrons
Robert Ballagh
Cllr Declan Bree
Cllr Catherine Connolly
Raymond Deane
Betty Doran
Prof. John Maguire
Bronwen Maher
Terence McCaughey
Patricia McKenna
Dervla Murphy
Joe Noonan
Cllr Seosamh Ó Cuaig
Cllr Chris O'Leary
Cllr Cieran Perry
Thomas Pringle TD

Donations
If you would like to help the People's Movement financially, please send your contribution to:
Ulster Bank,
33 College Green,
Dublin 2.
Sort code:
98-50-10
Account number:
06330039
IBAN:
IE61 ULSB 9850 1006 3300 39
BIC code:
ULSBIE2D
Affiliation
For details of affiliation
fees, see here.
Robert Ballagh prints
The limited edition
prints shown below
are available from the
People's Movement: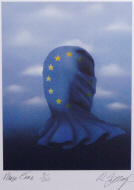 Click on the images
above for further
information.