The People's Movement campaigns against any measures that further develop the EU into a federal super-state and works to defend and enhance popular sovereignty, democracy and social justice in Ireland.
---
People's News - 29 March 2015
The current edition of People's News, dated 29 March 2015, is available for download here (1.19 MB).

---
Dublin - 27 March 2015
Protest
Scrap TTIP!
Friday, 27 March at Dublin Castle (Dame Street entrance)
at 10 to 11 a.m. for the arrival of EU trade commissioner,
Cecilia Malmström
and again at 12:30 to 1:30 p.m. for Commissioner Malmström's departure
Placards will be provided.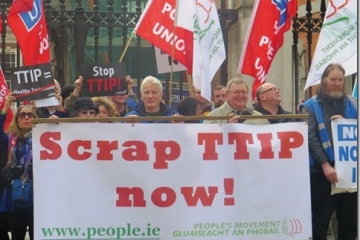 A protest organised by the People's Movement was held at Dublin Castle on Friday 27th during the launch of the Copenhagen Economics Study, to call for the scrapping of TTIP. Among those taking part were TEEU, UNITE, Uplift and Comhlámh. A petition organised by Uplift was later presented to EU Trade Commissioner Malmström prior to the Oireachtas EU Affairs Committee hearing, which a number of us attended.
---
Dublin - 27 February 2015

From left to right: Frank Keoghan, Joan Collins TD and Constantin Gurdjiev
Debate
TTIP: what is it and should we be worried?
Constantin Gurdjiev (economist) and
Frank Keoghan (president TEEU, secretary People's Movement).
Hosted by Joan Collins T.D.
Wynn's Hotel, Abbey Street, Dublin 1.
Friday, 27 February 2015, 7.30 p.m.
Supported by TEEU, Mandate and UNITE trade unions.
Videos of the presentations by Frank Keoghan and Constantin Gurdjiev, and of the questions from the floor can now be viewed on YouTube.
---
Dublin - 4 February 2015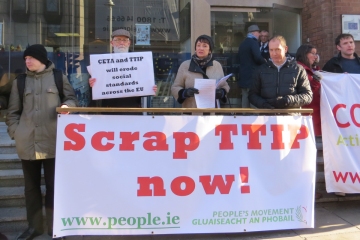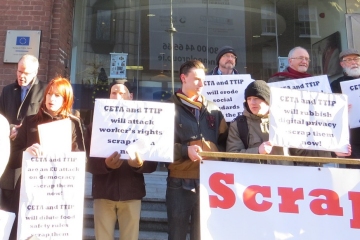 People's Movement
Protest
Scrap TTIP and CETA now!
European Parliament Offices
Molesworth St., Dublin 2.
Wednesday, 4 February 2015, 1.00 p.m.
A big 'Thank you' to all who helped make our 'Scrap TTIP and CETA' protest a success, especially to Joan Collins TD, Seán Crowe TD, Clare Daly TD, Seamus Healy TD, Paul Murphy TD, Senator David Norris, Thomas Pringle TD, Peadar Tóibín TD, Mick Wallace TD, Eamon Devoy, general secretary TEEU, and our friends from Comhlámh.
A copy of the press statement issued by the People's Movement is available here.
---
Stop the TTIP!
A presentation by Dr Paul O'Connell on the the Transatlantic Trade and Investment Partnership (TTIP).
---
Dublin - 23 October 2014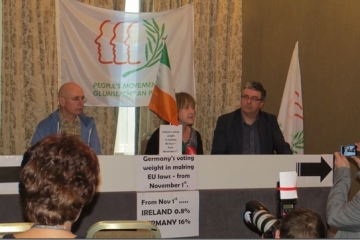 Above: Some of the speakers at the press conference.
Below: Merkel explains the new rules.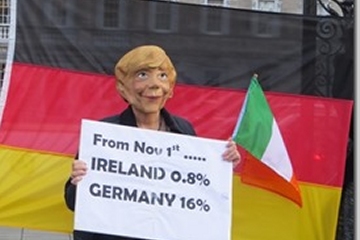 People's Movement
Press Conference & Demonstration
New qualified-majority voting rules
Buswell's Hotel, Molesworth Street
Thursday, 23 October 2014, 11.00 a.m.
Speakers will include:
Clare Daly TD, Thomas Pringle TD,
Councillor Brendan Young, Patricia McKenna (former MEP)
The press conference will be followed by a short demonstration against the new voting rules outside Leinster House at 1:00 p.m.
A press statement issued by the People's Movement is available here.
---
TTIP pamphlet launched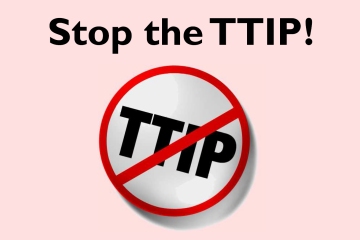 A new People's Movement pamphlet explains how an EU-US trade and investment treaty threatens democracy, would attack workers' rights, erode social standards and environmental regulations, dilute food safety rules, undermine regulations on the use of toxic chemicals, rubbish digital privacy laws, and strangle developing economies.
A copy (356 KB) of the pamphlet in PDF format is available here.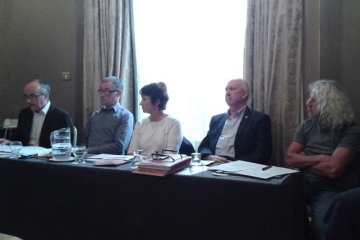 Speakers at the launch of the TIPP pamphlet
A press conference was held in Dublin on 5 September to launch the pamphlet. A press statement which summarises the contributions of the various speakers at the launch can be accessed here.
The effects of the proposed TIPP on jobs are discussed in a leaflet issued by the People's Movement. The leaflet can be downloaded here.
---
New print by Robert Ballagh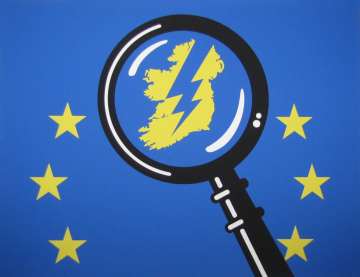 A new print by Robert Ballagh, in a limited edition of twenty-five, is available from the People's Movement. The print depicts one star in the EU flag representing a fractured EU member state — Ireland!
The print, which is 37 × 30 cm, costs €125 unframed and €150 framed. All proceeds go to supporting our work. Phone 087 2308330 for your copy.